Activities
Snorkeling

Discover the beauty of the underwater world and book a private snorkeling trip with a fishing boat. Start your adventure on the beach of Bang Kao and drive to the nearby island with a traditional longtail boat. Relax on secluded beaches and enjoy the tranquility while snorkeling.
---
Island Tours

With our preferred partner for island tours you have the opportunity to discover the diversity of Koh Samui. Book your tour on site and get to know Koh Samui of a different perspective.
---
Kite surfing

Take the opportunity to have a kitesurfing lesson just five minutes from the Siam Residence.
The Kiteboarding Asia School is located in Nathon at the corner next to the Sunset Restaurant and is easy to reach by motorbike or our shuttle bus. The instructors of the Kiteboarding Asia School are highly qualified. Book your Day Course with us which includes as well high quality equipment so you do not have to pay extra for rental or bring your own equipment.
---
Golf Course

Thanks to a partnership with the Samui Country Club, Siam Residence guests have the unique privilege to play on the island's only 18 hole championship golf course. The golf course was opened in 2003 and offers unique atmosphere and landscape to the golfers.
The golf courses is located at a 25-minute drive from the Siam Residence. The excellent course is nestled in a coconut garden on the hills above the north coast with stunning panoramic ocean views. A beautiful clubhouse and a luxurious panoramic sea view restaurant are available. Golf carts are mandatory (1 golfer per cart).
More information on the official page: https://www.santiburi-hotel.de/index.php/en/home-golf-en
---
Snake Show – Island Round Trip

Attend a show that will introduce you to some other natives of Samui – the snakes. Get to know the famous King Cobra and her relatives. Here you will learn more about these impressive reptiles during an unforgettable show.
Snake Show incl. Round trip.
---
Chaweng

Chaweng is the heart of entertainment in Koh Samui. You will discover bars, restaurants and discos. On demand we will take you in the hotel owned shuttle-bus to the Reggae Pub, the Green or other mayor venues and after an exciting night back to the Siam Residence.
---
Donut and Water-ski

Action watersport in front of your door. With our speed boat you have the opportunity of a high speed ride with our donut or water-ski. Book your adventure at our reception.
15 min THB 1500.00
30 min THB 3000.00
---
Kayak

Are you an explorer? Then take the chance and go with our free kayak on your own expedition in the Bay of Lipa Noi. Get more information at the reception or at our restaurant.
---
Jetski

Are you in a mood for a high speed experience? We can help you out and get you a jetski direct in front of our beach. On request the jetski will be covered by an insurance on additional costs.
Time Excl. Insurance Incl. Insurance
15min THB 1000.00 THB 1500.00
30min THB 2000.00 THB 3000.00
1h THB 4000.00 THB 6000.00
---
Cable ride

Whether you are an adrenalin junkie or just after some light hearted excitement, cable riding is great fun for everyone. Glide through the jungle on zip line cable rides like a monkey. Four different cable rides of excitement are ready for you to go on.
---
Elephant Trekking

Experience the island on the back of an elephant and explore the little jungle of Koh Samui. Get showered by the elephant when you visit the waterfall, and play with them in the water.
30min THB 900.00
1h THB 1200.00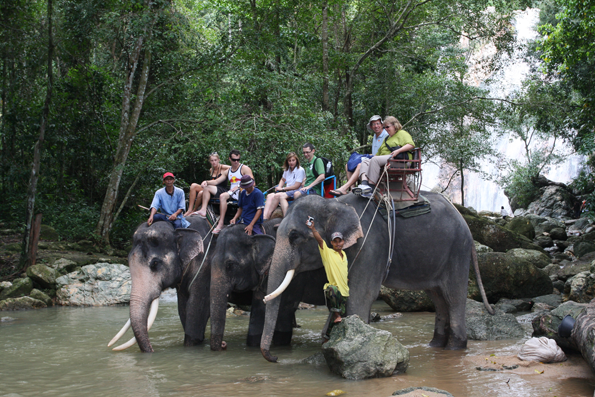 ---
Flyboard

Flyboard is a jet water board with jet nozzles and a long tube connected to a jet ski. The power of the water stream and height of the flight are controlled by a professional instructor. With the flyboard you are able to fly above the water surface to a height of nine meters, perform stunts in the air, dive into water and swim like a dolphin. This extremely popular entertainment and watersport innovation give you an unforgettable feeling of freedom in the water and air.
20min THB 2500.00
30min THB 4500.00
1h THB 7500.00
---
Magic Buddha Garden

It is located in the center of Koh Samui. Many interesting sculptures made of cement, by the hands of a fruit farmer.
---
Paintball

Paintball is a mix between tactic, cunning, endurance and team spirit. Go and try out a concept of exciting jungle tactics in a tropical environment of Koh Samui's jungle. All equipment and insurance is included as well as soft drinks and water.
---
Quad bike

Perfect for thrill seekers – an exciting ride around the eight-acre Namuang ATV Park on Polaris ATVs. No matter if you want a hard ride or take things gently and easy, everything is possible for you.
15min THB 600
30min THB 900
1h THB 1800
---
Na Muang Waterfall

Not too far away from the "Siam Residence" you can find the "Na Muang – Waterfall". Enjoy walking along this charming site – but please keep always in mind that you can get wet! While respiring seasonal fruits, soft drinks will be provided for your refreshment. Enjoy a half day excursion in nature.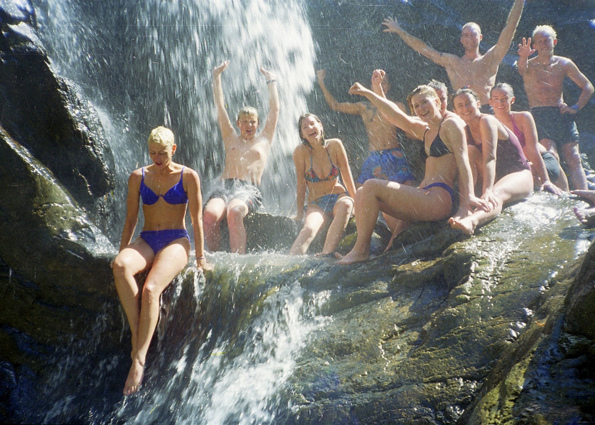 ---
Martial Arts Show

Come and see a show that offers an impression of martial arts. Traditional Thai Boxing – formerly a way of self-defense – as well as breath taking sword fights which are typical for Thailand. This show is said to have already encouraged some guests to try Martial Arts themselves.
---
Fishing Boat

Go on your private boat trip with a fisherman and his long tail boat. Let him show you the best spots for snorkeling and calm beaches on the remote island around Koh Samui. For 4 hours: THB 2500 For 6 hours: THB 3000 Please note that the price does not include lunch.
---
Helicopter Rental with deutsche Helikopter

Our goal is to plan your helicopter mission as efficiently and as comprehensively as possible. We will select the helicopter that best fits your needs while focussing on minimizing your costs. Our worldwide helicopter network allows us to advise you transparently and independently. If you contact us with a proposed project, you will receive a personalized offer that fits your demands and needs shortly. Make use of our international experience while planning your helicopter flight. Our service center is available at any time of the day.
For further information, feel free to contact us at any time or book direct under: info@deutsche-helikopter.de.
---
dasi xxx vidos desipapa.pro sammyy02k คีบ โป้ xxxthporn.com หนังโป๊xxxxx سكس المانى gonzoxxx.me سكس مصرية محجبة คลิป โบ๊ ฟรี thaihdporn.com หนัง x xx ฟรี يقذف ufym.info نيك تبادل زوجات
مقاطع نيك فيديو 24pornos.com سمر الشرموطة hunta-622 erovideo.me 芸能人 マンコ tamil hot sexy indianporncave.mobi blue film dj indian dirty porn hardindiansex.mobi sex yoga video kambi phone indiansexmms.info xvideo couple
سكس فشيخ pornozirve.com لقطات سكس パイズリ javshare.info ニューハーフライブ www xxx com home hotindiantube.net sex picture in tamil xnxx 18+ indianxxxsex.mobi bolly share.net سكس يابانى جديد iporntv.me سكس افلام طويله