Island Hopping at Koh Samui
Top 5 Islands for Koh Samui Island Hopping Day Trips

Due to its location in the Gulf of Thailand, Koh Samui is surrounded by numerous beautiful small islands. As such, "island hopping" has become a favourite past time activity amongst luxury holidayers while vacationing on the island.
If you're planning on staying at Koh Samui for a few days, opt for island hopping day trips to nearby islands. Here are our recommended 5 islands to visit.

1. Koh Mae Koh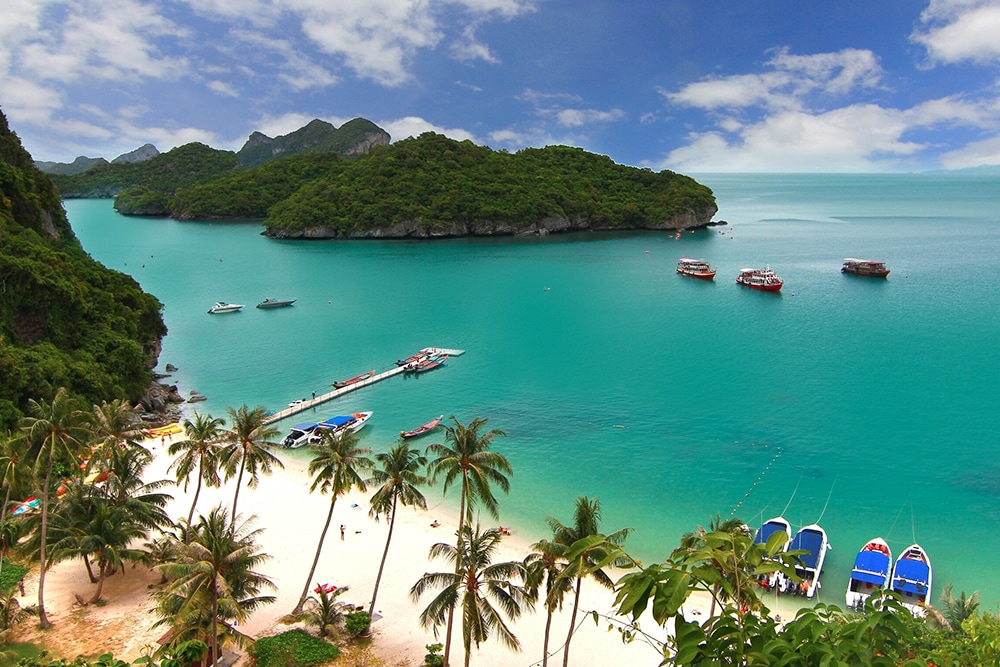 Those interested in stunning nature sights are recommended to visit Koh Mae Toh. Here, you'll be able to take panoramic shots of Angthong Marine National Park at its viewpoints and see Talay Nai, an emerald lagoon. With limestone cliffs surrounding Talay Nai and picturesque nature sight, this island is definitely a place you shouldn't miss on your Koh Samui island hopping day trip.

2. Koh Tao

Love scuba diving? If yes, you'll want to visit Koh Tao, an island well known for having one of the best scuba diving spots in the South of Thailand. Its pristine white-sand beaches and blue waters also makes it a great place for beachgoers to relax at.

3. Koh Nangyuan

Visit the world's only connecting islands, which has 3 islands linked by an extending beach. As such, this island has become famous among travellers for being one of the most scenic destinations in Asia.
While visiting the island on your Koh Samui island hopping day trip, remember to visit at their snorkeling spots (Japanese Gardens or Twins) and hike to the viewpoint for a wide view of the connected islands.

4. Koh Phangan

One of the biggest and most popular islands in the area, Koh Phangan is highly famous for their beach parties – namely the Full Moon, Half Moon and Black Moon parties. But if you're not much of a partygoer, its lush jungle, sandy beaches and over 20 dive sites will definitely amaze you.

5. Koh Mudsum

If you prefer a more peaceful Koh Samui island hopping day trip, we highly recommend visiting Koh Mudsum (also known as Koh Matsum). Unlike other islands on this list, Koh Mudsum has managed to maintain the natural aspect of the island. In fact, other than its stunning nature scene and beautiful white beaches, there is only one restaurant on the island.
For more information about Koh Samui island hopping packages, contact The Siam Residence here.

dasi xxx vidos desipapa.pro sammyy02k คีบ โป้ xxxthporn.com หนังโป๊xxxxx سكس المانى gonzoxxx.me سكس مصرية محجبة คลิป โบ๊ ฟรี thaihdporn.com หนัง x xx ฟรี يقذف ufym.info نيك تبادل زوجات
مقاطع نيك فيديو 24pornos.com سمر الشرموطة hunta-622 erovideo.me 芸能人 マンコ tamil hot sexy indianporncave.mobi blue film dj indian dirty porn hardindiansex.mobi sex yoga video kambi phone indiansexmms.info xvideo couple
سكس فشيخ pornozirve.com لقطات سكس パイズリ javshare.info ニューハーフライブ www xxx com home hotindiantube.net sex picture in tamil xnxx 18+ indianxxxsex.mobi bolly share.net سكس يابانى جديد iporntv.me سكس افلام طويله